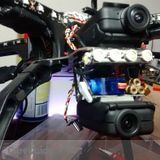 Nicky W
2nd Year Electrical Engineer Student
Fredericton, New Brunswick
Want to connect with Nicky?
Engineer in Fredericton, New Brunswick
My name is Nicky Ward and I am looking for a summer job starting today. I have put a short resume below. The resume does not include all work I have done, like work as a mechanics helper and renovate a home with a partner.
I have done work in many trades and hope to add some more variety before I finish my electrical engineering diploma and go off working in that field. If you have a position send me an email or call me at the number provided.
Thank you for reading.



219-2 Northumberland street
Fredericton NB E3B-3J--...
[email protected]

Nicky Ward

Career objective: I am looking for a summer job beginning on the first of May to the first of September.


Education Sept. 13 – To this day University of New-Brunswick
2nd year
Fredericton, Nouveau-Brunswick
» I am currently finishing my second year in electrical engineering at UNB

Sept. 11 - June 13 Polyvalente Louis-Mailloux
12th grade
Caraquet, Nouveau-Brunswick
» I went to a french primary and secondary school which is why I am fully bilingual.


Work experience May 14 - June 14 Worker
Home Hardware
Caraquet, Nouveau-Brunswick

» I was the guy who would do a little bit of everything. I would mainly be out back assembling or repairing furniture. I also was on the floor communicating and helping the clientele with their needs.

July 12 – Aug. 12 Worker Maisonnette sea food
Maisonnette, Nouveau-Brunswick

» At Maisonnette Seafood I was with a partner and we were put where ever the production was getting slow. We would work as many hours as they would give us.


Volunteering Jan. 10 - June 10
Habitat for humanity, found raisers
Worker/Organizer
Charlottetown, PEI

» In 10th grade my class participated in an activity where we would go to the Habitat for Humanity's headquarter and do all types of work to help them out 2 hours a week for a semester. For example, I was in charge of a group of 4 other students to build a shed for a fund raiser to help out a family in need.

» In the same course, every student had to organize a fund raiser to bring our school to tree-go. I organized a game/movie night. There was 2 movies back to back that played in our theater and the cafeteria contained 5 fully operational gaming systems. There was food and drinks for sale throughout the night. I raised a little over 300$ which was one of the most successful fundraiser. It has to be considered that my school only had 150 students


Award of Excellence and Certificates
»Best engineered bot and 2nd place in UNB robotics competition (Jan. 15)
» Physique 12 - III (June 13)
» Electricity 12 (June 13)
» Motorize Mechanic (June 13)
» English 12 B (June 13)
» Carpentry (June 13)
» Concour poincaré (mars 13)
» Physique 12 - II (June12)
» English 11 B (June 12)
» Chemistry 12 (June 12)


Competence and abilities
» C, Matlab, google sketchup, etc
» Creative, good communicator, problem solver
» English and French, Fully bilingual


Hobbies and interests
» Mechanic
» Biking
» Electronics
» Anything remote controlled
---
My Other Profiles

Nicky W
2nd Year Electrical Engineer Student
Find Engineers in Fredericton, New Brunswick
More in Fredericton, New Brunswick
Want to connect with Nicky?